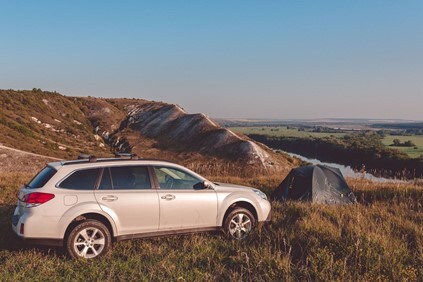 With summer in full swing, many people heed the call of the wild and go out into the woods to start their next great camping adventure. Before you start heading to parts unknown to set your next campsite, however, you want to ensure that you have the right car for the job. 
Picking the right Subaru for your active lifestyle means you have to do your due diligence and read up on the different varieties of vehicles that can meet your adventuring needs. Finding the right car that can get you where you need to go without starting your camping trip off on the wrong foot is made easier with the help of Piazza Subaru!.
Why Go With An AWD or 4WD Vehicle?
When planning your next camping trip, you want a vehicle that can withstand the terrain changes, higher altitudes, and any forested areas you may encounter on your journey. While some front-wheel-drive cars can do the job adequately, you will have the best luck with a car featuring all-wheel or four-wheel drivetrains.
These cars are specially designed to handle the gradual and sudden changes in terrain that often go hand in hand with off-roading and outdoor camping adventures. AWD and 4WD vehicles have specialized capabilities to keep you safe with these changes and provide the smoothest ride possible. Subaru contains a lineup that includes multiple AWD and 4WD drive vehicles that can help with your next camping adventure!
In addition to formidable 4WD, the vehicle you choose should also have a higher ground clearance level, leaving you with options like the Outback, Ascent, and Forester as your ideal vehicles for summers filled with camping trips!
Features Your Adventuring Vehicle Needs
No matter how you plan for a camping trip, you need to ensure you have enough room to accommodate all of the equipment you want to bring along with you. With this in mind, you should ensure that whatever car, SUV, or other vehicle you decide on possesses the trunk space to handle the gear you need to bring with you.
With excellent fuel economy, driver assist functionalities, and - depending on the model - a full roof rack, you can rest assured knowing that the Subaru lineup has a host of unique features available to you. These features help make your next camping experience in one of the great national parks around the area a great one!
The Subaru Outback
Picking the right Subaru vehicle for your latest adventure requires you to identify your needs and how much space and power you require. With the Outback models available from Piazza Subaru, you can find the best balance between space and power.
Combining the suite of safety features with a proven ability to go off-roading and the chance to accommodate all of your camping needs makes the Outback a solid choice for people with an active lifestyle. Visit Piazza Subaru today to find specialized finance deals on our Subaru Outbacks now!
The Subaru Forester
With similar SUVs, the Subaru Forester brings new life to this market segment through a mixture of sportier proportions, the suite of Subaru safety features, and additional features that help make it an excellent choice for camping. Bringing the full force of the potential of SUVs to bear brings the Forester to the forefront of the conversation.
The Subaru Ascent
While you want to ensure that your new Subaru Ascent is ready to handle the off-roading your outdoor adventures require, finding a car that preserves its fuel economy is an added bonus. The Ascent combines a turbocharged engine with an innate ability to maintain its fuel economy in ways that help drivers keep their eyes on the next adventure and not on the fuel gauge.
Now that you know what to look for when you're shopping for your next Subaru vehicle, you need to find the right dealership. Your local Subaru dealer, Piazza Subaru, is here to help! Contact our team to schedule your next test drive today!