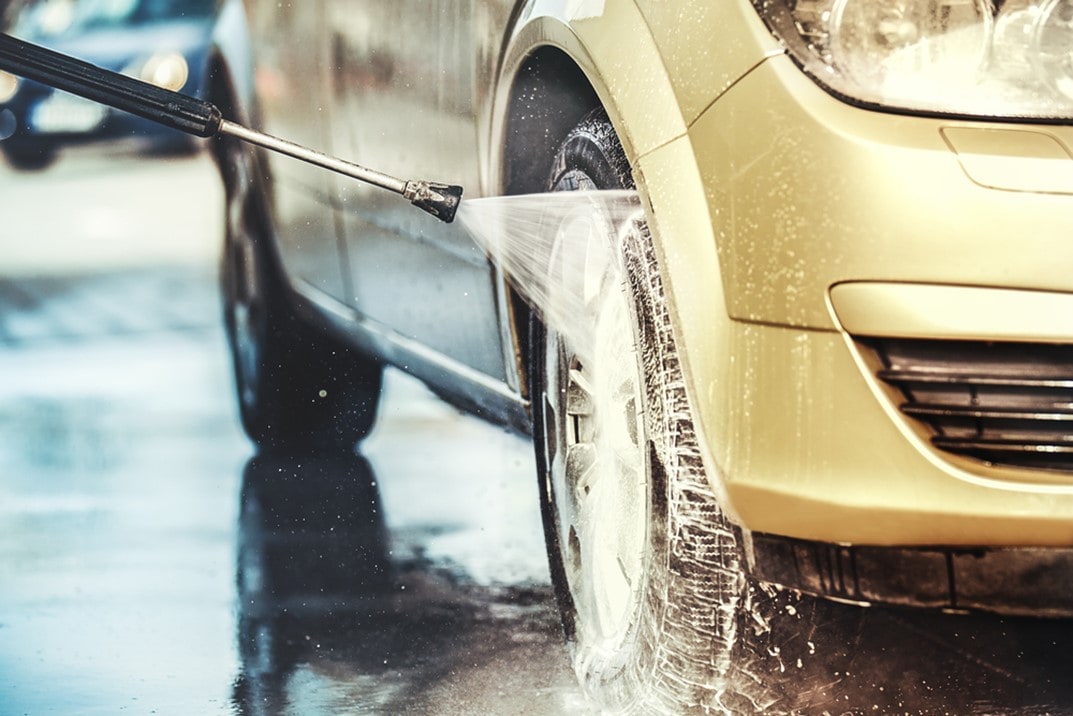 No matter if you're driving a new Subaru Crosstrek or a pre-owned Subaru Impreza, our cars go through a lot of punishment over time. Salt from the roads, changing weather conditions, and local wildlife (i.e., birds leaving presents) all can contribute to your car not looking its absolute best. 
Now that the sun is shining and winter is over, it's officially car wash season, and what's better than driving through Montgomery County with a freshly washed car? It's time to get all the salt, dirt, and grime off your vehicle since we all know car washes in the winter last only a day before the next snowstorm hits!
Cleaning your car might seem as easy as pulling out the bucket and getting some soapy water, but you have options for how you wash your car. Do you have ample time to put some elbow grease into it and handwash your vehicle? Or do you prefer the ease of going somewhere and driving it through an automated car wash? Are there discernible advantages to either method? Piazza Subaru wants all of our customers to know the facts about DIY car washes versus automatic washes.
Let's explore the pros and cons each method yields: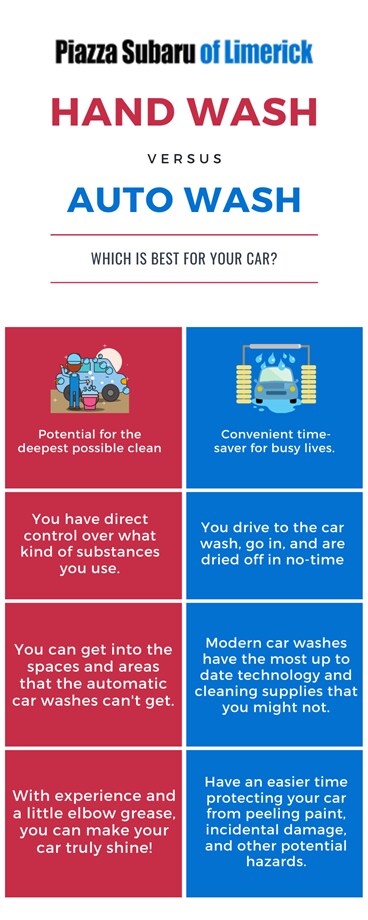 Benefits of Automatic Car Washes
The most significant advantage of an automatic car wash is the convenience of the experience. You drive out to your local car wash, run your car through it, marvel at the inner workings of the mechanism as you're inside your car, and then the team finishes drying off your car. The whole experience can take as little as 10 minutes to see the best results. With the busyness of our daily lives, finding a practical, time-saving way of washing your car is essential. Whatever the case may be, it's a lot easier than pulling out the hose and soap in your driveway.
Stand-alone car washes also have a benefit that you may not have at home in a DIY setting: access to the kind of equipment that protects your car. Washing your car safely and effectively is a learned skill that takes practice to perfect your technique. If you do not know what you are doing, you could potentially harm your vehicle as you try to get the highest level of cleanliness.
The Case for Hand Washing Cars
While automatic car washers offer the benefit of convenience, hand washing your car provides the best cleanliness results across the board. While requiring more time and effort than the automatic variety, you can get a deeper and more thorough clean with a hand wash. You can get to the small crevices of your vehicle, pay special attention to any lingering trouble spots, and get to know your car inside and out.
Instead of relying on air or blow-drying sequence, you can dry your car with a microfiber cloth to get the best drying possible. Small pockets of water could potentially stay during the air-drying process. While you're out there hand washing your vehicle, once you're done, you can also give it wax and polish to provide that extra level of cleanliness and shine.
One potential downside to handwashing the car yourself stems from water drainage and the kind of chemicals you use. If you aren't careful with the types of cleaning products you use on your vehicle, you can potentially cause damage to your surrounding environment. If you opt for the DIY hand washing, select safe chemicals to use and ones that are designed for use on your car. Leave the dish soap in the kitchen.
In the battle between handwashing and automatic washing, we think automatic is the winner! At Piazza Subaru, all of our inventory is squeaky clean and ready for a new home! Come on over to one of our car dealerships located in Berks County, PA, or our Limerick, PA location, and we will set you up with the car of your dreams. You can browse our entire inventory of the newest Subaru models now!