The 2021 Subaru Love Promise Customer and Community Commitment Award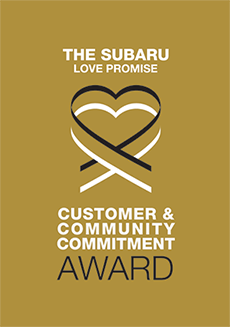 We've been nationally recognized for our dedication to our customers, our community, and the Subaru Love Promise.
We're honored to receive the 2021 Subaru Love Promise Customer and Community Commitment Award. This award nationally recognizes elite Subaru retailers who provide an exceptional customer experience at every interaction with Subaru. These retailers have also demonstrated an outstanding commitment to supporting passions and causes in their local communities in important areas such as the environment, community, health, education, and pets.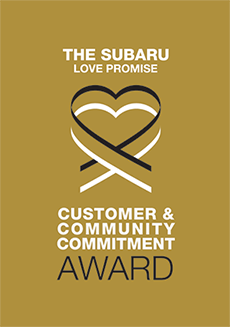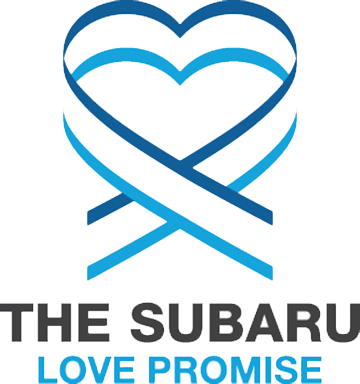 What is the Subaru Love Promise?
Subaru and our retailers believe in making the world a better place and the Subaru Love Promise is our vision of respecting all people. This is our commitment to show love and respect to our customers and to work to make a positive impact in the world.
How is Piazza Subaru of Limerick dedicated locally to the Love Promise?
Our Love Promise can be seen in various partnerships with local charities and non-profits. We're grateful for the opportunity, not only to be a part of our community, but to serve it as well.
Love Promise Stories from Piazza Subaru of Limerick
Subaru and Piazza Subaru of Limerick believe in making a positive impact on the communities in which we live and work. We uphold that belief through our Love Promise Community Commitment. Every month, we select inspiring stories from customers and partners from around our area who strive to support our collective commitment and feature them here
Piazza Subaru Team, A True Partner!! - Joanne F
Mike Hinkle and the Piazza Team have been a partner of the Council on Brain Injury (CoBI) for a number of years. Not just through the Share the Love campaign but supporting our non-profits other efforts throughout the year. They understand what "community" really means and go the extra mile in ensuring their actions truly match their mission. This year, we found a creative way to visit their beautiful new home and held our Share the Love check presentation in a socially distanced way while celebrating the incredible donation, the largest ever, they made to the Council on Brain Injury. It was a special day and we appreciate Mike and his entire team for allowing us to be a part of the Piazza Subaru family!
---
Piazza Subaru donates Blankets to Good Samartian. - Greg S
General Manager Mike Hinkle dropped off blankets to Good Samaritan Services in Phoenixville. The blankets are part of Piazza Subaru of Limericks commitment to Subaru's Loves to Care program. Good Samaritan Services is working to overcome homelessness in Chester and Lancaster counties.
---
Subaru Loves Pets - Valerie D
Subaru has coined October as Subaru Loves Pets month, and as an animal welfare organization, we couldn't love that more! We are so grateful to Piazza Subaru of Limerick for nominating the Brandywine Valley SPCA as their hometown shelter partner. This makes the BVSPCA the recipient of a $100 donation for every dog adopted in the month of October (up to 31 dogs), covering all or a portion of their adoption fee. Subaru places a special emphasis on the importance of adopting "Underdogs" – the hard-to-adopt shelter dogs with special needs. Meet Hank, one of those underdogs. Hank was rescued from a Korean dog meat farm by Humane Society International and made his way to the Brandywine Valley SPCA in December 2019. Given his tragic past, Hank was not acclimated to normal, everyday life. He didn't know how to be a dog. The behavior team at the BVSPCA spent over 10 months helping Hank learn about kindness and love. Over time, we learned that Hank was very sweet and easy going, and he loved playing with the other dogs who traveled back from Korea with him. We even realized he was house trained! Despite all of Hank's wonderful qualities, he still needed a special, patient adopter to help him understand things like stairs, appliances, and other new experiences in a home setting. On October 20, 2020, Hank finally got the forever home he had been waiting so long for. His adopter came to the BVSPCA in search of a dog needing a little extra help, and that's when she met Hank. She related to Hank's history of trauma based on her work at a veteran's hospital. She knew Hank was the dog she wanted to help. We could not have dreamt of a kinder, better home for sweet Hank. Thanks to Piazza Subaru of Limerick and Subaru of America, a large portion of Hanks adoption fee was covered, making the story just that much sweeter. Thank you, Piazza Subaru of Limerick!
---
Share the Love Partnership - Joanne F
On July 12, 2019, MJ Schmidt, Board Chair attended the check presentation with Mike Hinkle, General Manager at Piazza Subaru. The Council on Brain Injury couldn't be more grateful to Piazza Subaru for selecting them for the second year as its Hometown Charity. The team at Piazza raised $16,600 during its 2018 Share the Love campaign and CoBI is thrilled to be the recipient of this amazing gift. Mike and his team at Piazza Subaru took on this challenge with the sole goal of raising more money than the previous year. They take the time to ensure customers know about the Share the Love program and specifically about the mission and impact of the Council on Brain Injury. CoBI is a non-profit organization dedicated to raising awareness of brain injury and its impact on the lives of both survivors of brain injury and their families. CoBI also supports research, prevention and outreach efforts in the tri-state region. With the monies from the Share the Love event, the Council on Brain Injury has been able to expand its support to many programs and initiatives related to brain injury. Being a totally volunteer led organization, all of these funds are used to support CoBI's ReDiscoverU Program which offers monthly classes to adults with brain injury, to its Clinical Forum series which provides education to professionals and to assist and support small support groups throughout the region to have money available to ensure participants can attend meetings and have quality speakers to help them navigate the challenges they face. CoBI is so grateful to Mike, his Piazza team and Subaru for offering this wonderful program and helping an organization focused on brain injury to continue to identify needs and create important and meaningful opportunities to all of its stakeholders. Thank You Piazza Subaru!!
---
Piazza Subaru Lovers to Care - Greg S
On July 10th, 2019 Piazza Subaru of Limerick met with the staff at Phoenixville Hospital Cancer Center delivering blankets, craft kits, and messages of hope to be distributed to the patients
---
Piazza Subaru Loves Pets - Greg S
Piazza Subaru of Limerick dropped off Shelter supplies to Brandywine Valley SPCA on November 15,2019 . The donations included donations from customers collected during the Subaru Loves Pets event.
---
Piazza Subaru Loves to Care Phoenixville Hospital - Jenn P
It was an emotional delivery for the team of Piazza Subaru. They arrived with bittersweet far too recent memories of family members heavily impacted by blood cancer. All 3 Subaru team members present at delivery have a connection to blood cancer. In addition to the joy being spread through the hospital, there were some tears. Althea Leacock of the Phoenixville Hospital Cancer Center gave the staff of The Leukemia & Lymphoma Society and the staff of Piazza Subaru a wonderful tour of their infusion and radiation centers. She shared with us that her intention is to bring calmness and warmth to patients and that the blankets provided from Subaru will have an everlasting impact on those in their first days of treatment –which prove to be some of the hardest. Piazza Subaru General Manager Mike Hinkle noted that he was determined for Phoenixville Hospital to receive their blankets as they touched his own family in a way he will never forget. Thank you to Piazza Subaru for Loving to Care for patients in Phoenixville and for becoming a long term partner of The Leukemia & Lymphoma Society in Eastern PA.
---
Share the Love Partners with CoBI - Alexandra B
On June 29th, 2018, Joanne Finegan, Board President, and MJ Schmidt, Board Member attended the check presentation with Mike Hinkle, General Manager at Piazza Subaru. The Council on Brain Injury was extremely grateful for the opportunity to be the Hometown Charity for the Subaru Share the Love Event at Piazza Subaru. Mike Hinkle and his incredible team at Piazza Subaru were able to share with their customers the mission and impact of the Council on Brain Injury during the Share the Love Event. Piazza Subaru greatly exceeded our expectation by raising $10,681 for CoBI to utilize to have greater reach, impact and support to individuals and families affected by brain injury. The Council on Brain Injury (CoBI) is 501 (c)(3) non-profit organization whose mission is to improve the lives of individuals with brain injuries and their families, prevention, and research and education. CoBI is comprised entirely of volunteers who, in addition to organizing and running fundraising events, offer guidance and support to the daily operations and mission of CoBI. We believe that we have done well in our efforts to identify organizations and projects which use our grants to make things that really make a difference happen. The only thing that could have made this day better, was that the Council on Brain Injury was informed that they would be the Hometown Charity for the Share the Love Event again in 2018! The Council on Brain Injury is greatly looking forward to growing our relationship with Piazza Subaru and helping to make an even bigger impact on the individuals and families affected by brain injury. Thank you Piazza Subaru!
---
LVH Cedar Crest & Subaru Loves to Care - Monique R
On July 6th, 2017 Piazza Subaru of Limerick along with The Leukemia & Lymphoma Society (LLS) of Eastern PA delivered 84 blankets, care cards and 12 arts & crafts kits to Lehigh Valley Hospital Cedar Crest in Allentown, PA. The hospital staff was very excited to have us back again this year and so extremely grateful of the partnership. They allowed Pam Lutz of LLS and General Manager of Piazza Subaru of Limerick Mike Hinkle to deliver a blanket to a patient. Mike was very touched after delivering the blanket to the patient. He made it very clear this is something he wants to continue every year. Thank you to Lehigh Valley Hospital for accepting the blankets and arts & crafts kits. By partnering together to deliver blankets, Piazza Subaru of Limerick and LLS have brought some brightness into the day of a cancer patient.
---