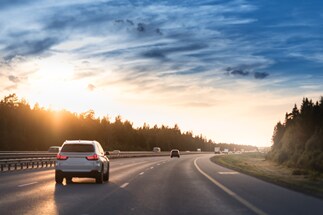 The winter is finally in our rearview mirrors, and spring is here, which means one thing - road trips! Whether it's a spontaneous and leisurely Sunday drive or a thoroughly planned and extensive interstate road trip, you want your Subaru to be prepared for the rigors of the road. Taking the time to ensure your car is ready for drives of all shapes and sizes requires you to carefully inspect several key areas before you embark on your next adventure.
At Piazza Subaru, the premier car dealership in Montgomery County, we want your car to be road-trip-ready. So before you slide on the driving gloves and don the sunglasses, let's examine a few ways to keep your vehicle ready to roll the streets. The following infographic provides a quick overview of the steps you can take:

Address Your Lubricants
A simple way to make a positive impact on your Subaru is to address the lubricants that are vital to keeping it running smoothly and efficiently. Engines have many components that can begin to deteriorate over time from the wear and tear of driving. Keeping your oil changed and fluids filled at Piazza Subaru can help protect these components and provide you with better fuel economy.
Inspect Your Battery
Your car's battery is one aspect of your vehicle that you don't think about until a problem arises. As time goes on, the battery naturally loses its charge, but the main danger that can cause a premature failure comes from corrosion at the connectors. If battery acid damages and weakens your connectors, the higher the likelihood that your car will suffer a breakdown during your trip. Taking the time before heading out to properly inspect your battery for intact and tight connections will help keep your vehicle ready for the long road trip ahead.
Check Your Tire Pressure
While a knocking sound in your engine or a cloud of smoke billowing from under your hood is a clear indicator that something's wrong with your car, poorly inflated tires are more of a silent killer. When under-inflated, your tires force engines to work harder, which increases unnecessary wear for them and their components. 
This can also create an adverse effect on fuel economy, which reduces overall performance. Keeping your tires properly inflated is an easy and straightforward way to get your car road-ready for those relaxing Sunday drives.
Tidy Up
Most road trips will consist of long hours, many miles, and plenty of road snacks. Before you start going on the road, take the time to clean your car and get it ready for the road. Make an effort to clear out old trash, plastic bottles, and any random junk that has accumulated. A clean car will help keep you and your passengers in the right frame of mind to enjoy the journey. Additionally, take the time to organize your car to accommodate for your passengers, any luggage, food, and drinks that you want to bring along for the trip.
Stick To Your Maintenance Schedule
Routinely bringing your vehicle to Piazza Subaru for scheduled maintenance and service is crucial to prevent significant breakdowns and other issues that your automobile may encounter during your road trip. This can include checking air filters, A/C systems, brakes, and batteries to prevent potential future problems with your car and ensure a safe and smooth trip. 
At Piazza Subaru, we want you to focus on the primary function of a road trip - enjoying the open road and all the attractions it has to offer. We are the area's premier Subaru dealer and provider of official Subaru car parts.
To have us get your vehicle road-trip ready, or for any other services or questions, give us a call or contact us online today!